Overview of Chef Education Requirements
27/10/2023
You've made the decision to embark on a journey to becoming a chef, but do you know what the educational requirements are? There are a few different options you can choose from, taking you down different educational paths that teach you about various skills, management techniques, job opportunities and more.
There are some professionals in the culinary world who don't have much formal education. They simply worked their way up the corporate ladder to get where they are today. However, the industry has changed in recent years. There is more of a demand for chefs and culinary experts who have gone through training to become certified and knowledgeable in their craft.
Let's look at the different ways that you can achieve a degree that will fast-track your career towards becoming a chef.
What Knowledge Is Essential for a Chef?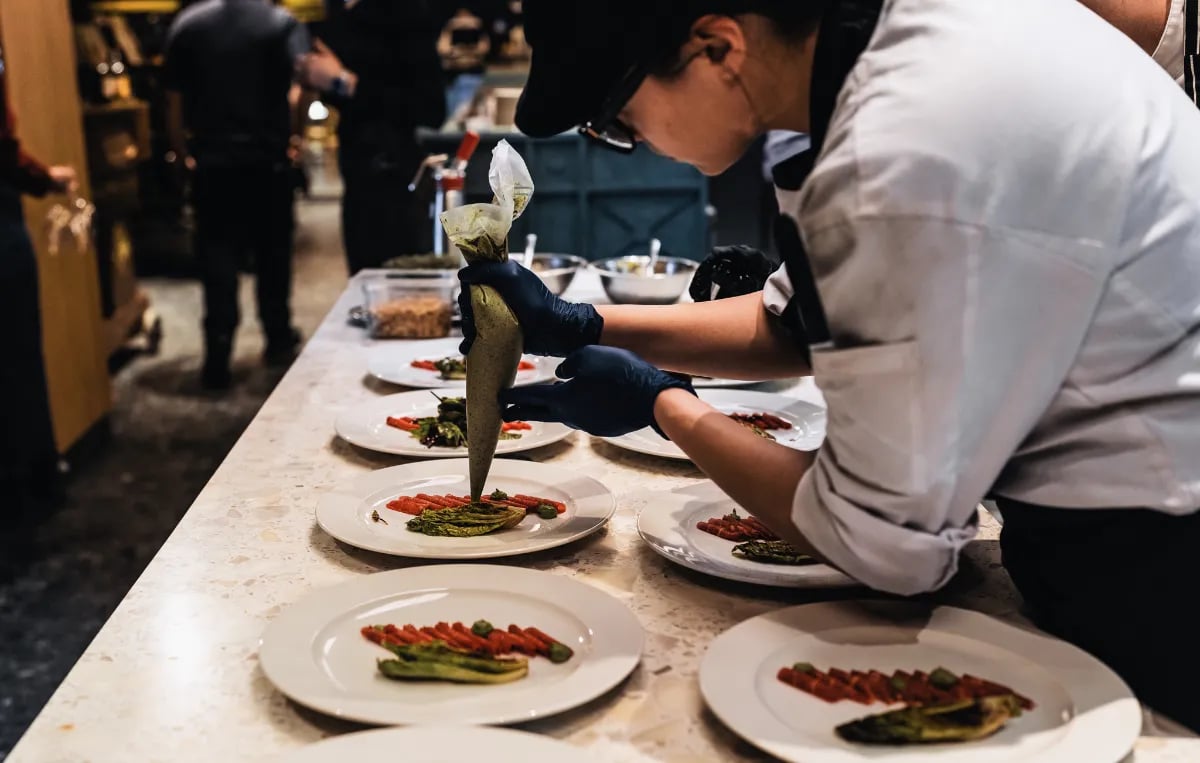 In order to be successful as a chef, there is quite a bit of knowledge to learn and master. We're not just talking about the specific skills that you'll practice, such as various cooking tools, following recipes, and preparing food. Other areas of knowledge include:
Flexibility
Working as a chef is a very fast-paced and busy job. Over the course of a single day in a restaurant or kitchen, there are a number of scenarios you'll have to navigate. A lot goes on at one time, and you need to be flexible to keep up. While enrolled in a chef program, you work on many different skills. Once mastered, you'll be able to remain flexible in the professional world, adjusting how you're working based on what needs to be done.
Creativity
You're allowed a lot more room to be creative and develop your own niche when you're in the process of obtaining your culinary degree. Once you're working in a restaurant or facility of some sort, you may be bound by certain rules that are in place there. It's ideal that you can figure out your own flare and creativity before you're in that scenario. This can help you feel more confident and secure in your profession if you know what you bring to the table.
Ongoing Education
Obtaining education as a starting block for your career as a chef is important. However, it's also important that you continue your education many years later. There will always be developing trends in the culinary world. Knowing what they are and being able to incorporate them into your own work will set you apart from the competition.
Planning
Planning will be part of your job as a chef. This can include planning for upcoming menus, ordering supplies and products, budgeting, etc. You learn about all these different forms of planning while meeting your chef education requirements.
Food Safety
Whenever you are preparing food, especially on a large-scale basis, it's imperative that you know all about proper food handling techniques. You need to prevent cross-contamination that could make people ill. Food needs to be rotated and kept fresh for the same reason. There will be an ongoing need for evaluating the products that you're using while you're working as a chef in order to maintain an exceptional level of quality.
What Education is Needed to Become a Chef?
In order to enroll in a culinary program that will help you achieve your dream of becoming a chef, you'll likely need to have your high school diploma or equivalent. Some culinary schools will require you to have some degree of experience. This can be as simple as working a few years in the food industry doing very basic tasks. Others, like HRC academy, prefer people who "come with an empty cup".
The application process can be very competitive, so any experience or education that you have in advance of applying to a culinary program is ideal. For example, if you have the opportunity to take certain culinary classes in high school or college, this can provide you with an advantage over other applicants. Any additional certification programs that you can complete will put you ahead of everyone else regarding the education requirements for a chef.
Once enrolled, you can often choose the type of degree and education that you want to participate in. This can be a shorter program that allows you to obtain certifications that help you towards becoming a chef. There are also programs that take a couple of years to complete, as well as four-year programs that really encompass everything you need to know to be successful in your field of work.
Once you're applying for a job as a chef, you'll find that the different education requirements that employers ask for will vary. Higher-end establishments may want you to have a four-year culinary degree in addition to a certain number of years of experience. Other employers are happy to help you gain more knowledge and experience on the job.
Don't forget, apprenticeships are also an option once you have completed your education. This scenario allows you to work under an experienced chef or culinary professional who will teach you everything you need to know.
Types of Chef Degrees
There are different chef degrees that are available for professionals and students of all levels. Whether you're starting out with your education or you're looking to take your career to the next level, here are some of the different degree programs that are available at some of the top culinary schools in the world:
This program will typically take one to two years and covers a wide range of topics. The information will be taught in a condensed fashion in order for students to stay on track for a fast completion of the program. In our academy, this program also includes 2 paid internships in Europe and the USA.
Some of the skills learned in an associate culinary degree program include food safety, preparation, use of utensils and tools, basic management, taste, flavor and more.
You can usually complete a certification program in under a year. This is an abbreviated curriculum that touches on the topics of preparing traditional dishes, food safety and general culinary education.
This is a four-year program that focuses on a number of tasks more in-depth than the shorter program options. You start out by learning the basics of becoming a chef, but you'll spend some of your later years really honing in on your craft. This is a program that both new students and experienced professionals will take on to further their careers as chefs.
Advantages of Working as a Chef With a Degree or Certification
Once you're applying for jobs in the culinary field, you'll find that becoming a chef is very competitive. There are only so many chefs at each establishment, and each employer wants to make sure that they're hiring the very best. After all, the experience of their chefs will determine how profitable and successful their business venture is.
When you're filling out an application and submitting your resume, there is a distinct advantage that comes from being a culinary professional who has a degree or certification. This is especially true if you have obtained your education from a reputable academy that is well known.
What Steps Should You Take to Become a Chef?
If you have interests in the culinary field and you've decided that you want to become a chef, start looking at the different chef programs that are available. You don't necessarily have to limit yourself to the programs that are in your own state or town. There are many top culinary programs throughout the world that can help you become the very best chef possible. This opens up a world of opportunities when you start applying for jobs.
Should You Go to a Culinary School to Become a Chef?
While there are plenty of successful professional chefs who did not attend culinary school to obtain their education and experience, this is a process that will make a big difference later on in your career. You may have a type of job in mind that interests you, but you really don't know where your path may lead. Attending a culinary program to become a chef can provide you with a variety of skills and experience that are invaluable in the working world. This is an investment of time and money that will pay off in the future.
Ready to Get Your Chef Education?
If you're ready to become a professional chef and have decided that you want to enroll in a culinary school, consider looking at HRC Culinary Academy. We offer a number of different culinary programs that can help you on your way to becoming a professional chef. We encourage you to reach out to our admissions team to find out more about what we offer, how to enroll and what you can expect from an education at HRC Culinary Academy.
see all posts