Two locations, 2 diplomas. Endless opportunities
HRC Culinary Academy has established a partnership with Ducasse Education – a leading global organization of professional and pre-professional Culinary and Pastry Arts schools, where passion and devotion to the art of hospitality underscore a rich history of exceptional standards forged through decades of practice and experience.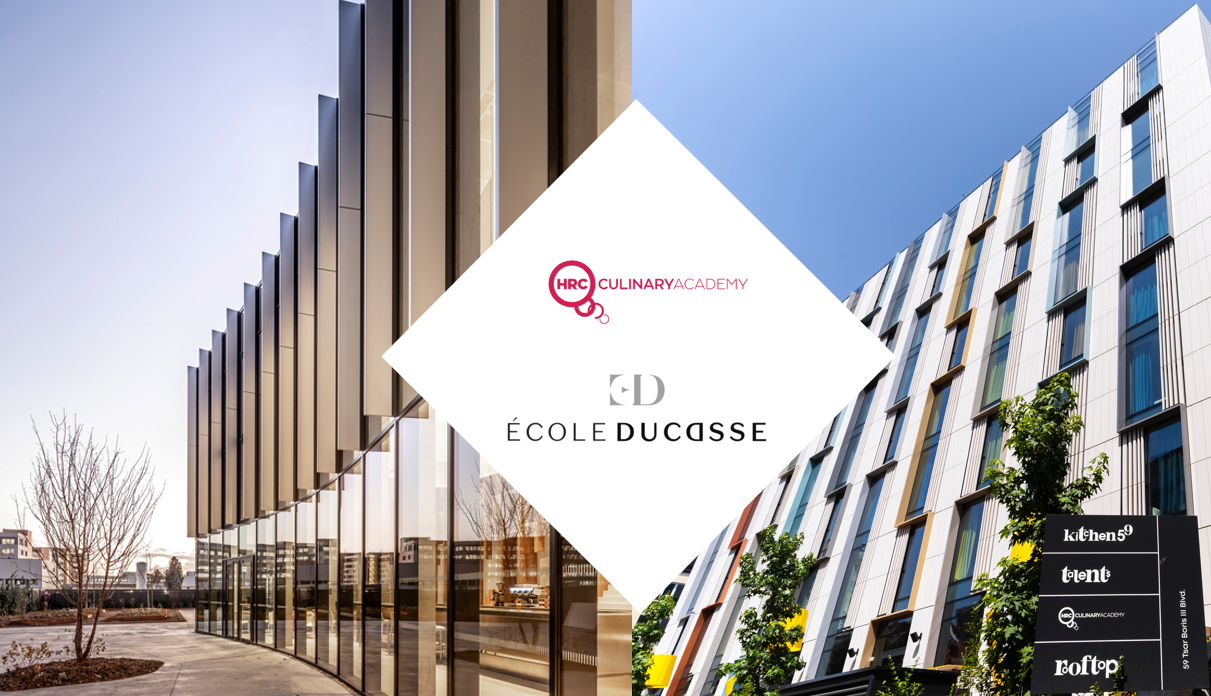 Ducasse Education sets the highest culinary and pastry industry standards with its comprehensive hands-on educational programs that emphasize practical learning of techniques with precision, innovation and rigorous skills-based methodology.
Two campuses are established in France: the Centre de Formation Alain Ducasse, specialized in culinary arts and pastry for restaurants, and the Ecole Nationale Supérieure de Patisserie, which has been the leading professional Pastry and Bakery Arts school in France for more than 30 years.
Why choose this International Bachelor Track?
Learn with two world class institutions
This unique Bachelor Track brings together the culinary expertise of HRC Culinary Academy and École Ducasse, two of the most admired names in gastronomic education. You'll spend your first two semesters at HRC's campus in Sofia before switching to École Ducasse Paris Campus to complete your Bachelor's degree.
Open up a world of career choices
Your curriculum combines intensive, hands-on culinary training with rigorous academic studies of business and management topics. This delivers an exceptionally well-rounded skill set that will open up endless career opportunities as well as providing a perfect foundation for your entrepreneurial endeavors.
Experience three professional working environments
Throughout this program you will undertake three paid work placements in three different countries, broadening your cultural horizons while delivering a wealth of real-world industry experience that will set you apart from other culinary arts graduates.
Introducing HRC Culinary Academy and École Ducasse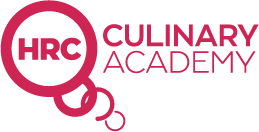 HRC Culinary Academy is the premier educational institution of its kind in Eastern Europe. Established in 2008, HRC Academy has trained hundreds of aspiring chefs, from over 40 countries. We are the first school in the European Union accredited by the American Culinary Federation.
Our teaching is entirely in English, with a focus on practical skills, and applied by world-renowned chefs. We are proud to offer paid internships at some of the finest hotels and restaurants in Europe and the USA, where our students have the chance to obtain knowledge and skills.

At École Ducasse, our mission is to transmit French gastronomic excellence to students at all levels of experience and know-how. In our teaching, we endeavor to convey the culinary savoir-faire and expertise of our founder and guiding light, Alain Ducasse – a pioneer in recognizing the value of living and eating well.
Our three schools in France – Paris Studio, Paris Campus and École Nationale Supérieure de Pâtisserie – are joined by international schools in the Philippines, India and Thailand; all of them committed to sharing their passion for gastronomy.
Details about the International Bachelor Track
Program Overview

HRC Culinary Academy and École Ducasse offer an integrated 3.5 year Bachelor's degree in a modular design, which delivers enhanced practical skills and business/entrepreneurial expertise. Teaching across all semesters is 100% in English.
Practical sessions are taught in specialized kitchen labs at HRC's campus in Sofia and École Ducasse's campus in Paris, both of which offer state-of-the-art chef training facilities.
Through hands-on classes under expert supervision, you will develop a comprehensive knowledge of both classic and modern cooking techniques while also learning to adapt to the unique demands of the professional kitchen environment.
What you learn on campus is supplemented by three professional internships. After your first semester you will have the opportunity to complete a 6-month internship at a high-end culinary establishment in Europe. After your second semester in Sofia you'll undertake a one-year paid internship at a 5* luxury hotel or high-end restaurant in the USA. Your final work placement sits between semesters 5 and 6 and provides a practical immersion in a partner establishment of École Ducasse.
Throughout the program, and especially in your fifth and sixth semesters with École Ducasse, your practical training is accompanied by academic classes that will teach you about the business beyond the kitchen, focusing on key topics such as talent management, marketing, financial performance management, sustainability, and much more.
Upon successful completion of the program you will be awarded a Bachelor's degree from École Ducasse, joining a combined alumni community that now numbers some 10,600 individuals (10K+ ED & 600+ HRC).
Entry requirements
Minimum age of 18.
Diploma for a successfully completed secondary education.
Working knowledge of English. (B1 level is a good start).
Foodie by heart and a future chef by attitude!
Passion for gastronomy and the hospitality industry.
If you would like to discover more about the Admission process, please click here.
Please note: to be eligible for admission to École Ducasse you must have successfully completed your Associate Degree in Culinary Arts at HRC Culinary Academy and be able to provide proof of completion of 2 internships.
Next starting dates
March 2024
September 2024
Application deadlines
Applications are open all year round; however, depending on your citizenship and visa status there might be some delay. We advise:
Holders of EU/EEA passports to submit their application no later than 15 working days before the start of the program.
Non-EU passport holders to submit their application no later than 90 working days* before the start of the course.
*Please note that there are different procedures that apply for an individual to obtain their visa. Thus, the period could be longer than 90 days. In these rare cases, applications might be delayed until the next intake.
Admission process
Step 1
Fill in the application form.
Step 2
We will get in touch with you to give you additional information and answer your questions.
Step 3
You need to book an appointment for an online interview. We would like to have a friendly chat to understand your proficiency in English and learn more about why you choose to study at HRC Culinary Academy and École Ducasse.
The Interview fee is EUR 50.
Admissions for the Ducasse Bachelor track
HRC Culinary Academy graduates are eligible for direct entry into semester 3 of the Bachelor in Culinary Arts Program. Upon the successful completion of just 2 academic semesters and a work placement, they will be awarded a Bachelor in Culinary Arts from Ecole Ducasse.
To be eligible, HRC Culinary Academy applying students must:
HRC Culinary Academy is the only educational partner in the world where graduates have this amazing fast-track option for a bachelor's degree at France's top culinary institute. This amazing bachelor's opportunity is yet another example of the high-quality education offered at HRC.