Chef Certifications: How to Become a Certified Chef
20/11/2023
The culinary industry can be a bit unique in that you don't always have to obtain a formal education in order to build a successful career. Sometimes, experience and various certifications can be enough. How do you know what certifications to obtain? How can you evaluate your current skill set to determine where you need improvement?
In this article, we'll talk about what chef certifications are, why they're beneficial and how you can go about obtaining them. Keep in mind that these aren't requirements for becoming a professional chef. However, many experienced professionals feel this information is valuable for becoming a better chef, which employers will appreciate having as part of their team.
What is a Chef Certification?
A chef certification can mean a few different things. A degree or diploma from a culinary academy is commonly obtained, with this education focusing on basic skills, specialties, management information, etc. There are different degrees available, including two-year and four-year programs, shorter certification sessions and master's degrees in hospitality management.
Regardless of what type of program you are enrolled in, these classes are generally taught by experienced and knowledgeable professionals who know a great deal about the culinary industry. They have likely worked in this field for a number of years, making them valuable resources.
Your education and certifications don't have to be completed all at once. You have the ability to further your education later on, based on your interests, career goals and changes in the industry.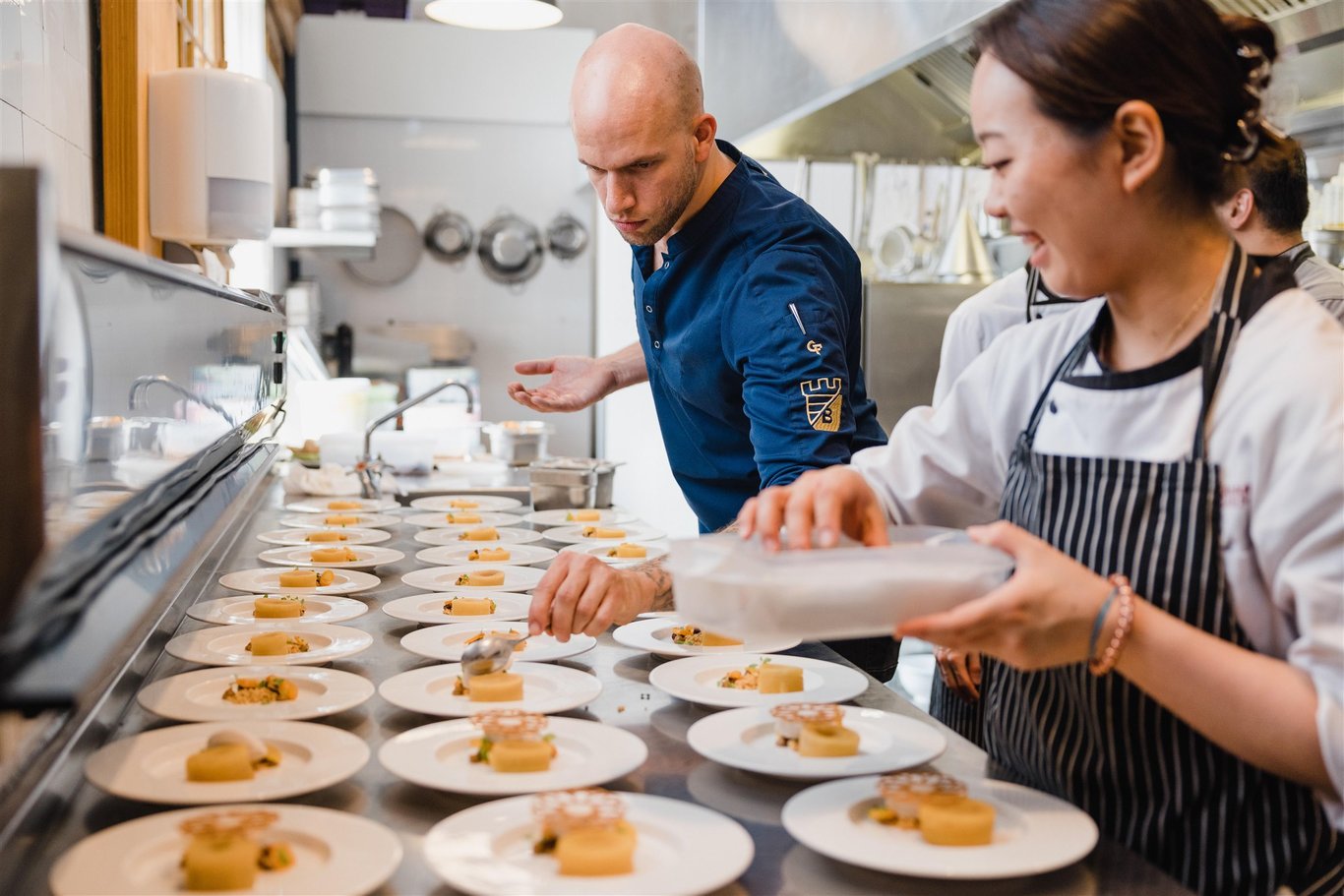 What's the Purpose of Obtaining a Chef Certification?
When it comes to applying for a job in the culinary industry, you want to stand out from your competition. You can show a prospective employer that you are serious about your career by providing a resume that shows you have obtained one or more chef certifications. You have developed skill sets that others may not know about, as you've worked with some of the best chefs in the world.
By holding a chef certification as a baker, sous chef, management professional or decorator, you are showing that you are an asset to a company.
Top Chef Certifications
Many top chef certificates can be obtained from a reputable culinary school or academy. However, there are other chef-focused organizations that offer certifications of their own. It's ideal to obtain your certification from an organization that is well-known and respected in the culinary industry. When a prospective employer is looking over your information, their eyebrows should raise with interest when they see that you're certified by a top culinary academy.
Let's take a look at some of the types of culinary chef professions that typically require some form of certification:
1. Certified Foodservice Professional
The North American Association of Food Equipment Manufacturers created the certified foodservice professional certification in 1987. It is recognized at a worldwide level, providing a great deal of knowledge that equates to a very successful team of food service professionals. This includes customer service practices, how to handle and prepare food safely, different food service math formulas and calculations, inventory management, staff management, designing menus and budgeting.
Keep in mind that this certification needs to be renewed every two years.
2. Master Certified Food Executive
A master certified food executive certification is a very prestigious program that is used to expand one's knowledge and expertise far beyond the preparation and presentation of food. In addition to extensive food safety education, a master certified food executive will learn all about management in the culinary industry, exceptional customer service, purchasing, proper product storage, mathematical formulas that are commonly used in the food service industry and more.
3. Certified Chef de Cuisine
A certified chef de cuisine is one of the types of chef certificates that focuses on a management / supervisor role. It requires you to have experience managing at least two other employees for three years or more. You may also need to have other formal education in order to apply, such as an associate degree in some sector of food service. You will learn about nutrition, handling food safely, the sanitation of a kitchen and equipment and management skills.
4. Certified Personal Chef
Obtaining a personal chef certification is something that many potential clients would be impressed to see on a resume. This program covers a great deal of information, including food safety, sanitation, nutrition information for a variety of specialty diets, personal management, budgeting, etc. You must have worked as a personal chef for a minimum of two years in order to apply for this certification program. It's time and money well worth spending if you're looking to secure more high-end clientele.
5. Certified Executive Chef
The certification program for executive chefs is a top program that comes with very high standards of excellence. Topics covered include food preparation, nutrition, food safety, sanitation, management skills, industry standards and menu creation. All of this information is covered in extensive detail.
Upon completing this program, you will be required to pass several examinations, including written testing. With so many different professional chefs attempting to get ahead in their careers, the certified executive chef program is a great way to prove that you have extensive competency in this field of work.
6. Certified Master Chef
The certified master chef position is really one of the top positions that you can achieve in the culinary industry. This certification is available in various countries, each of which recognizes this accreditation in its own way. For example, the American Culinary Federation offers a master chef certification, and this is the only American master chef certification that is recognized by the United States Department of Labor. Australia currently has one of the top master chef certification programs in the world.
7. Certified Pastry Chef
The job of a certified pastry chef is to provide supervision and management to at least two other employees (or more). Most employers will require a minimum of five years of experience as well as formal education. These professionals are responsible for creating a variety of baked goods, pastries, etc.
Interested in Pastry and bakery? Check our 7-week professional certificate course.
8. Certified Sous Chef
A certified sous chef is a managerial role that oversees food production at locations such as restaurants, hotels, etc. The second-in-command in a kitchen (a sous chef) will work hard to maintain a high level of quality, even when the head chef is busy or away. Becoming a sous chef is a very competitive process, with many professionals looking to apply for an open position. A kitchen will not employ many sous chefs, so it's imperative to have something like a certification to help you stand out from the competition.
It takes a great deal of experience and knowledge to be able to apply for this certification, such as two years of management experience and five years of culinary experience. Topics like nutrition, sanitation, food safety, food preparation and management are covered.
9. Certified Decorator
A certified decorator usually works in a bakery, decorating and presenting the various baked goods and confections that are made there. This is a very artistic position, and the certification program will go over a variety of techniques and skills that can be developed personally for one's own unique skill set.
The person who qualified for the decorator certification will have experience working as a baker and decorator. They may also have some degree of management experience, but this isn't necessarily a requirement that is needed to apply.
10. Certified Culinary Educator
Becoming a certified culinary educator is one step that you must take if you're interested in taking your experience even further. For example, you must have obtained this certification in order to apply to become a certified master chef.
The certified culinary educator learns about working as a chef or manager in great detail so that they can share their knowledge. They will go on to teach the next generation of culinary professionals. The person applying for this certification has likely worked in the culinary industry for many years before finally deciding to step away from the physically demanding aspect of this job.
Both written and practical exams are required in order to be accepted into this certification program. You will also need to create a video application as part of your submission, discussing your past experience and why you're interested in obtaining this certification.
Ready to Become a Certified Chef?
If you are ready to learn more about how to become a chef with a certification, reach out to the admissions staff at HRC Academy. We offer a number of certification programs as well as degree program opportunities. We look forward to helping you on the path to becoming a certified chef. Just some of what we offer includes a professional chef's certificate, pastry and bakery courses as well as a food preparation certificate.
see all posts