Famous Pastry Chef Nicolas Nikolakopoulos marks the new HRC Academy partnership with Barry Callebaut
05/10/2023
We are happy to announce our partnership with Barry Callebaut Chocolate and Chocolate Academy!
We believe that our successful partnerships are due to quality products and looking in the same direction, and that together we will continue to support young culinary talents and promote their work on the global culinary scene.
The beginning of our partnership was crowned with an exciting event that attracted professional pastry chefs and bakers from all over Bulgaria.
Chef Nicolas Nikolakopoulos visited HRC Culinary Academy to reveal the secrets of chocolate and pastry art with his colleagues. Our chef instructors also had the chance and opportunity to increase their professional competence and knowledge thanks to the course.
Chef Nicolas Nikolakopoulos is a dedicated pastry educator, chocolatier, and co-founder of NZ Dessert Designers, a Pastry/Baking consultancy serving in Greece and Internationally. With over a decade of pastry instruction experience, he imparts expertise through classes, consultancies, and thousands of training hours. As Southeast Europe's first Chocolate Master and a World Chocolate Masters 2022 Top-Three finalist, he seamlessly blends innovation and artistry.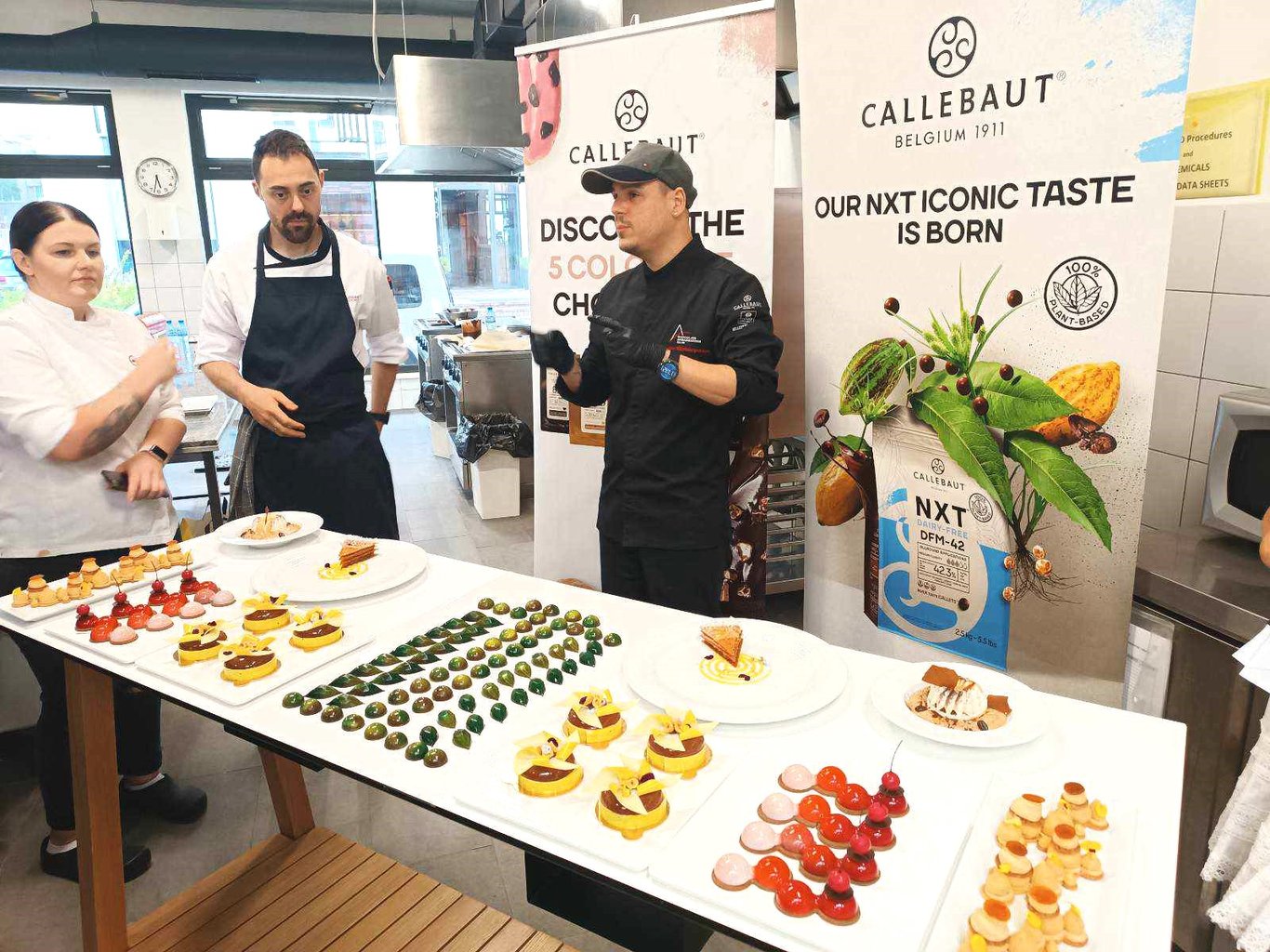 Here is what the chef shared with us in a short interview:
Please present yourself briefly (where are you from, where are you currently working & living, why did you decide to become a chef etc.)?
My name is Nicolas Nikolakopoulos, I am from Athens, Greece but my origins come from the island of Crete. Becoming a pastry chef was, I think, not even a conscious choice – it's like it chose me. I am an only child, and since childhood even before starting school, my favourite pastime was to play with kitchen ingredients. When my parents were not home, I baked traditional cookies by myself. At school later, I also enjoyed chemistry, so I went to study at the University. But in my second year, I decided that, after finishing my studies I would follow what I love – gastronomy.
What difference have you experienced in your career after the WCM finals and the 3rd place?
Since the first months of participating, things have changed a lot. You get to meet incredibly talented people and you surround yourself with like-minded professionals. You get to improve and even develop skills you didn't know you had. After the competition and depending on where you come from, a candidate's experience may vary. I was kind of known in the professional field, but after the competition my recognition, respect for my work and international collaboration opportunities have expanded.
Is part of that new change being Chocolate Academy Ambassador? Why have you decided to join the club and what has this role brought to you?
It was discussed for me to become an ambassador even before the competition, but wiser people than me like my "chocolate godfather" Chef Phililppe Marand, proposed to me to participate in the competition so ambassadorship had to wait. Being a multi-brand Chocolate Academy Ambassador is a role that came naturally. The reason is that I love working with products I am proud of, and that shows well to people who follow my work. I am part of an ever-evolving family, creating, hopefully innovating, making chocolate art, and all that while meeting incredible people from all over the world.
Do you still have time to teach your students with all these 'chocolate activities'?
I think that teaching is something that I love doing, and it has been my job for more than 10 years now. I never get tired of it, and I feel it is rewarding, because you get to offer what you know or have created, and in the process, you learn a lot from others too. This is why I always include it in my everyday work life.
We can often see you smiling and relaxed, but do you ever feel nervous about work?
I think -because many people tell me – that it must be some kind of power. I am saying that because I almost never feel calm or relaxed, but I guess that comes from me getting in the zone. I might have been very stressed before, but when work starts, I get in the zone, try to stay focused, and have fun with it. It doesn't always work, but that's my plan.
In your private life, do you prepare any sweets, or have you had enough at work? What is your favorite pastry and what chocolate would you recommend for creating it?
In my work, I usually love creating complex desserts, while experimenting with flavour combinations and decorations. I love the artistic part of our work and so I express myself personally through that. In my private life I don't usually create desserts like that, but I when I do for friends it is mostly the comfort -kind of desserts, easy to make and enjoy. I like all kinds of pastry, so it is hard to pick just one, but I especially love fruits and spices in desserts. And I see different kinds of chocolates as colours in a painter's palette. Each one has its place and great pairings to make it shine, and for me, the "weirder" the better. The more unique or special a character a chocolate is, the more intriguing I find it to work with it. Like Callebaut Ruby2, or Evocao by Cacao Barry.
What relaxes you the most after work? (Love, friends, pets, sports, cooking…name a few).
I do have a lot of interests, from cooking, crafts, puzzle making, reading, video games, etc, but in everyday life I would most often opt for a good board game night with friends, going out for food or a good movie.
What is your best advice for young pastry chefs who are just at their beginning, to become professionals?
I would advise them to allow their passion to shine through, express their own creative self through their work and find their own identity. Being inspired by others is always a good idea, copying is a bad one. And of course, be patient and persevere, take everything step by step and not be afraid to challenge themselves.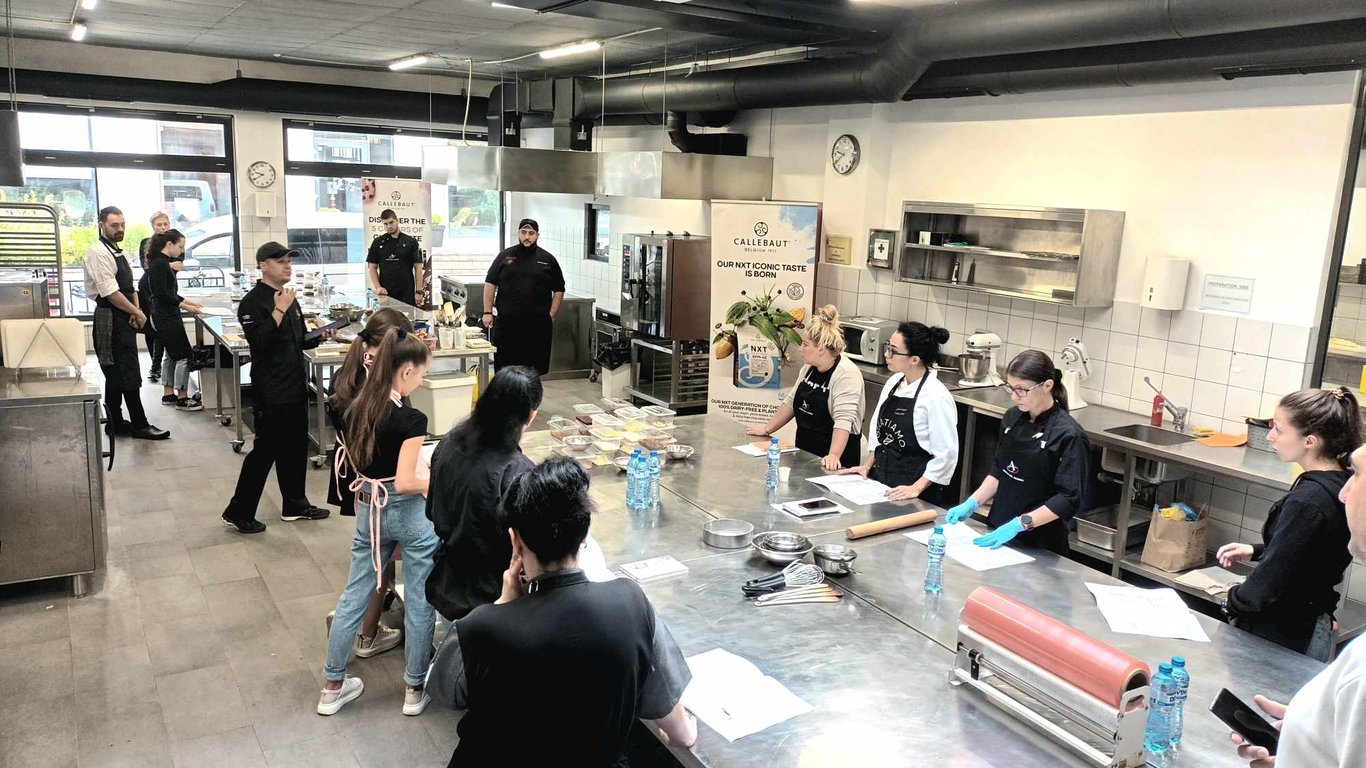 Interested in a career as a pastry chef? Learn about our Pastry and bakery program.
see all news