What Can You Do with a Culinary Degree: 101 Guide
22/08/2023
Many people assume that a culinary degree will land them in a restaurant someday, working traditional business hours and serving customers. In fact, a culinary degree is a very versatile educational path that can open up many different doors. Not to mention, there are different types of culinary degrees that allow you to really hone in on what you love doing.
Perhaps baking and patisserie are passions of yours. Some people prefer to take on more of a managerial role in the culinary world, learning how to run a successful business and oversee other employees. If working within the confines of a restaurant isn't something that's desired, there are private chefs and even traveling chefs.
Let's delve into the world of culinary arts, looking at the different opportunities that are available when you have completed a culinary arts degree of some sort.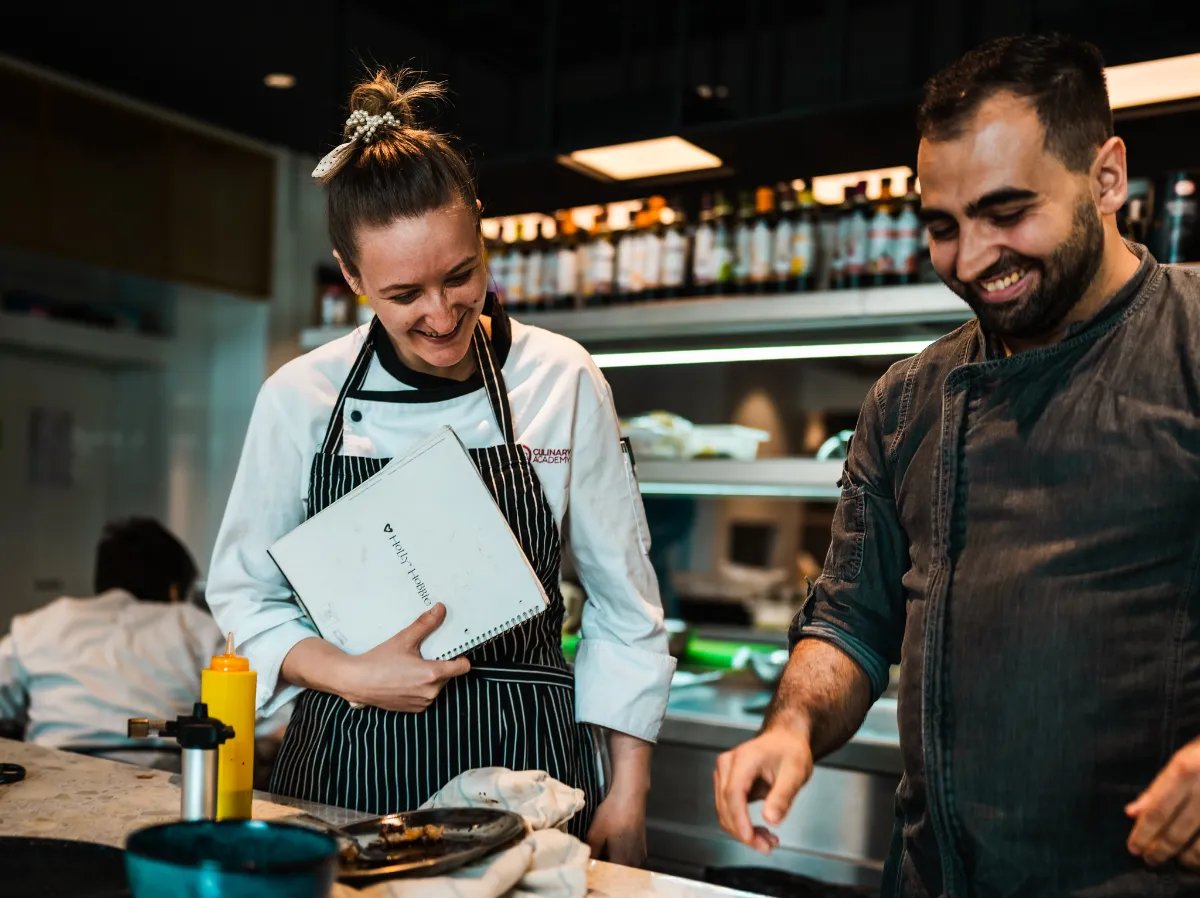 What is a Culinary Degree?
A culinary degree is an educational certification that provides essential knowledge for people who want to work in the culinary arts field. There are a few different culinary programs to choose from, including baking, pastry arts, culinary preparation and more. The curriculum can vary a bit from one educational institution to another.
You also have the option of choosing between an associate degree and a bachelor's degree. This determines the length of the program and how in-depth the curriculum will be for each topic that is covered. There are places that also offer additional certifications and specialty programs that complement a core education.
Culinary arts cover a broad range of information, from basic preparation techniques to the basics of running a successful business. You may learn about different ingredients, how certain ingredients react with others, flavors, textures and presentation.
Different Types of Culinary Degrees
As mentioned, there are a few different directions that you can go when you're choosing a culinary degree program. Some of the different types of culinary degrees include:
Associate's Culinary Arts Degree (One- to two-year program)
Pastry Arts Degree (Approximately one year)
Bachelor's degree in culinary or pastry Arts (Two- to four-year program)
Master's degree in culinary arts (Two- to three-year program on top of the initial degree program)
Sous Chef Certification (Time frame varies)
Career Opportunities With a Culinary Degree
Once a culinary degree has been achieved, a career path can begin. There are a number of career opportunities that are available, each with its own salary and required duties. The path that you choose will be determined by the skill set that you have, what you enjoy doing, the setting that you want to work in, etc. Let's look at some of the different opportunities that are available with a culinary arts degree.
Head Chef/Sous Chef
A head chef has a managerial role that requires them to oversee many different functions of a kitchen. This includes delegating and managing employees, focusing on customer service and possibly taking care of ordering products. Some head chefs will help create menus and make decisions behind the scenes.
A sous chef doesn't have quite as much authority as a head chef, and they usually work for a head chef. By working closely together and following directions, a sous chef helps a kitchen flow smoothly. Preparation of ingredients, cooking and baking typically fall under the purview of a sous chef.
Restaurant Manager
Restaurant managers have a number of responsibilities that span more than just the preparation of products. This can include hiring qualified employees, creating and maintaining a budget, overseeing the operations of a kitchen and taking care of customer service issues. The cleanliness and safety of a kitchen may also be part of the responsibilities of a restaurant manager.
Personal Chef
A personal chef works solely for one person or family, preparing meals either daily or a few times per week. This preparation can take place in the client's home or in a separate kitchen. Meals are created according to a client's specific diet and preferences.
Pastry Chef
Pastry chefs are typically responsible for creating and preparing dessert items such as pastries, scones, donuts, muffins, cookies, etc. This position can be found in patisseries, pastry shops, bakeries and restaurants. Some establishments will hire just one or two pastry chefs for daily operations, while others will have a full staff of just pastry chefs.
Food Critic
Instead of having a role in preparing dishes as part of their job, food critics will review and critique different culinary establishments and dishes. This information will then be published in a newspaper, magazine or online. A good deal of culinary education must be in place in order to make an informed review.
What to Do After Culinary School?
When considering what to do with a culinary degree, there are a number of opportunities. Some of the career pathways for a recently graduated culinary student include:
– Management
While becoming head of management might not be achievable right out of school, there are still management roles that you can apply for once you have your culinary degree. Working under other hospitality managers, roles can include things like overseeing employees, taking care of ordering supplies, assessing the day-to-day operations of a kitchen, addressing customer concerns, helping with the development of a budget and more.
Over time, higher-level management roles may become available. This is a culinary career path that allows for quite a bit of growth compared to some of the other opportunities in the culinary field.
– Chef
A fast-paced career option, chefs will oversee the daily operations of a kitchen within a restaurant or similar facility. Chefs will prepare and cook food while also managing the other chefs, cooks and bakers that are on-site. Chefs are often responsible for creating menus and ordering products.
– Pastry Arts
Becoming a pastry chef encompasses many different specialties, from creating dessert delicacies to planning a daily or seasonal menu. Pastry arts is a great opportunity for people who prefer baking over the preparation of traditional meals. There are many different positions available that focus on making certain items or even just the decoration and presentation of the product.
– Media-Focused Professionals
If your educational path has provided you with detailed knowledge that allows you to critique other chefs' creations, you may want to delve into the world of media and culinary arts. You can work as a food critic for a newspaper or magazine. There are also a lot of opportunities available on social media and online websites.
Is It Easy to Get a Job With a Culinary Degree?
One thing is for certain: getting a job in the culinary industry is much easier when you have a culinary degree. A potential employer will look very closely at the kind of experience you have before hiring you. While experience in the field of culinary arts is important, it helps to have formal training as well.
When working towards your culinary degree, it's beneficial to consider where you think you may want to work someday. This allows you to take classes and work on techniques that will be helpful when applying for a job. If you're unsure of what kind of career in culinary arts you want to secure, it's best to focus on a variety of information that can provide you with a number of opportunities later on.
FAQs
Let's take a look at some of the most frequently asked questions regarding culinary degrees and working in the culinary arts industry.
Are Culinary Degrees Only for Becoming a Chef?
It's a misconception that a culinary degree can only be used to become a chef in a restaurant or other food establishment. The knowledge that is achieved in culinary school can be valuable for many different professions. For example, some nutritional professionals have a culinary-focused education. Their training helps them better serve clients who are looking to eat healthier or follow a specific diet.
A culinary arts degree can also provide you with the opportunity to work in the marketing sector of the culinary world. If you're wondering "What can i do with a culinary arts degree?", you can help establish and develop a restaurant into a reputable and well-known brand without ever setting foot in the kitchen. You may even want to review local restaurants for a media-based publication.
Can I Work in the Culinary Industry Without a Formal Degree?
While a culinary education is a fantastic way to learn all of the basics of food preparation and management in a short period of time, there is knowledge that can be gained by working in the field for a number of years. The professional experience that you put on a resume is often something that can impress a potential employer. It's helpful to have diverse experience that demonstrates your ability to perform different duties at an establishment.
It can take some time, but you have the ability to work your way up the corporate ladder. You should expect to start in a lower-level position when you're first starting out in the culinary field. It can take a number of years to reach a management position or head chef. This time can be reduced with a culinary arts degree.
Is a Culinary Degree Necessary for Starting a Restaurant?
A culinary arts degree doesn't necessarily guarantee that your restaurant is going to be successful and run smoothly, but this education is definitely valuable if you're looking to start your own business. When considering what to do with a culinary degree, you have many opportunities. Your knowledge will be vast enough that you'll understand how the different areas of a restaurant will run. You'll also have valuable information and experience that will help you select other professionals to help make your business successful.
Aspects of a culinary arts degree that can help you run your own restaurant include:
Basic accounting
Food safety
Management of employees
Customer service
Knowledge of ingredients
Food preparation
Labor costs
Inventory management
How Can HRC Academy Help You?
Located in Sofia, Bulgaria, HRC Academy can provide you with an accredited culinary education. With many different programs available, your education at HRC Academy can help you get started in many different areas of the culinary world. From management to food preparation, these classes have been developed by international professionals and specialists to provide the most well-rounded education possible. When you have completed your curriculum, you'll be ready to enter the working world. Reach out to our admissions department to find out more about how you can get started on the path to success.
see all posts